VERSCHOBEN AUF DEN HERBST!!!
Die Jury, bestehend aus den KomponistInnen Marta Kowalczuk (Vorstand via nova e.V.), Johannes K. Hildebrandt (Vorstand via nova e.V.) und Helmut Zapf (Komponist, Randspiele Zepernick), Paul Hauptmeier und Jason Langheim, wählte aus 20 internationalen Einsendungen drei Finalisten aus.
Diese sind:
Panayiotis Kokoras (USA): "Ai Phantazy"
Leon Goltermann (D): "Flashlight in the cave"
Pouria Eghdami (D/ Persisch-Französisch): "Subduction"
Im Konzert erklingen außerdem Werke von Paul Hauptmeier, Martin Recker, Peter Helmut Lang und Jason Langheim.
Über die Preisvergabe entscheidet die Jury in einem internen Juryvorspiel. Die Preisverleihung findet im Anschluss an das Konzert statt.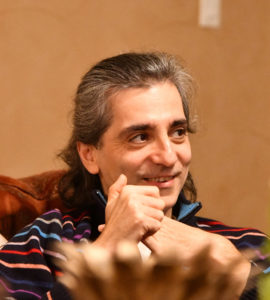 Kokoras is an internationally award-winning composer and computer music innovator, and currently an Associate Professor of composition and CEMI director (Center for Experimental Music and Intermedia) at the University of North Texas. Born in Greece, he studied classical guitar and composition in Athens, Greece and York, England; he taught for many years at Aristotle University in Thessaloniki. Kokoras's sound compositions use sound as the only structural unit. His concept of "holophonic musical texture" describes his goal that each independent sound (phonos), contributes equally into the synthesis of the total (holos). In both instrumental and electroacoustic writing, his music calls upon a "virtuosity of sound," a hyper-idiomatic writing which emphasizes on the precise production of variable sound possibilities and the correct distinction between one timbre and another to convey the musical ideas and structure of the piece. His compositional output is also informed by musical research in Music Information Retrieval compositional strategies, Extended techniques, Tactile sound, Hyperidiomaticity, Robotics, Sound and Consciousness. More information at http://www.panayiotiskokoras.com
Leon Goltermann ist 28 Jahre alt und lebt in Leipzig. Nach Literaturwissenschaften studiert er
jetzt im Master Medienkunst//elektroakustische Klangkomposition//experimentelles Radio
an der Bauhausuniversität in Weimar. Er spielt, arbeitet und komponiert mit Musik, Hörspiel,
Installationen und Text. Zurzeit häufig mit dem Fokus auf Spracherweiterung,
Soundskulpturen und dem Verhältnis von Kunst und Kulturindustrie. In verschiedenen
Ensembles performt er mit elektronisch erweitertem Schlagwerk.
Pouria Eghdami is a composer, sound artist and researcher based in Germany. His works engage with the extremes of sound, music technology, experimental electronic music, instrumental mechanism and physicality, which depict a microscopic sound production process; delineated the behavior of substances and forces and concretely ties together heterogeneous and disparate elements and gathered them into a single context as an apparatus. He studied composition & electroacoustic music with Mark Andre and Franz Martin Olbrisch at university of Music "Carl Maria von Weber" Dresden and with Claus-Steffen Mahnkopf at university of Music and Theatre »Felix Mendelssohn Bartholdy« Leipzig. His music has been performed in Europe, USA, and Asia, as well as at various international festivals and he is the recipient of several international prizes and scholarships.
Eintritt: 12 €, 8€ ermäßigt